2005 Minnesota 1000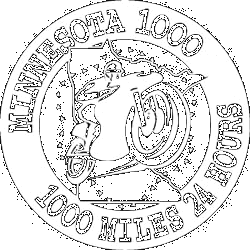 Results by competition class
1st Overall
Rider #
Name
Score
Miles
Make
Model
From
-
93
Marty Lier
10876
1440
BMW
R1150GS
MN
Expert
Place
Rider #
Name
Score
Miles
Make
Model
From
1
17
Tim Conway
10776
1430
Honda
VFR
MN
2
159
Jon McDermott
9712
1580
BMW
R100RT
MN
366
Steffan Fay
9712
1622
BMW
R1100R
MN
3
516
Carrie Hanson
9690
1132
BMW
R1100RT
MN
517
Ron Hanson
9690
1139
Honda
GL1800
MN
521
Chris Berg
9690
1119
Kawasaki
Concours
MN
4
315
Conrad Eggan
9589
1153
BMW
R1150RT
MN
5
601
John Tomasovich
9322
1574
BMW
K1200RS
PA
6
503
John Coons
9049
1347
BMW
R1100RSL
MN
7
550
Ian O'Dwyer
9002
1178
BMW
R1150GS
IL
8
21
Tim Wise
8406
858
BMW
R1200GS
MN
9
26
Jim Larsen
8306
872
Honda
VFR800
MN
10
84
Peter Dean
8287
1059
BMW
K1200LT
MN
11
513
Rick Corwine
7954
1123
Honda
PC800
MN
12
349
Mark Koch
7448
1026
Yamaha
Royal Star
MN
13
562
Paul Sundet
7280
1303
Honda
VFR800
MN
14
515
Brett Donahue
6969
1105
HD
Sportster
MN
15
578
Derek Dickson
6311
1193
Yamaha
FJR1300
MN
16
155
Bill Bruhn
6144
764
Honda
CBR600
WI
17
404
Steven Steller
6069
1033
Piaggio
X9
WI
18
1
Mark Foster
6040
1083
Honda
CB750K
MN
19
510
Wayne Koppa
5919
879
BMW
850R
MI
20
465
Dave Nelson
5662
942
Honda
CB750F
MN
21
504
Fergus Hand
5544
1349
Kawasaki
Concours
MB
22
526
Jeffrey Malmquist
5541
1118
Ducati
Monster
MN
23
389
Lee Hemquist
5127
743
Honda
Goldwing
MN
24
177
Jim Winterer
5033
1961
Suzuki
650 V-Strom
MN
25
361
Jim Simonet
4964
2006
Honda
ST1100
WI
26
392
Jim Peterson
4886
1079
BMW
R1150RT
MN
27
498
Bob (498) Johnson
4590
933
Honda
GL1100
SD
28
10
Eddie James
3793
1003
Yamaha
XS400 Special
OH
29
592
Verne Hauck
3059
885
BMW
R1150RT
PA
30
471
Patrick Butler
2541
1334
Honda
CBR1100XX
MN
31
489
Deb Taylor
1600
1542
BMW
R1200RT
MN
-
59
Mike Nimz
DNF
-
Yamaha
FJR1300
MN
-
547
Ian Bentley
DNF
-
BMW
K1200RS
MN
-
579
Rick Martin
DNF
-
Yamaha
FJR1300
IL
Sport / Sport Touring
Place
Rider #
Name
Score
Miles
Make
Model
From
1
533
Jim Weatherhead
8849
1009
Suzuki
DL1000
MN
2
418
Gary Klinker
8803
1106
BMW
R1100RT
WI
551
Curt Gran
8803
1093
Honda
ST1300A
WI
3
58
Bob Johnson
8299
1138
BMW
K100RS
IN
4
520
Michael Marzitelli
7547
1256
Kawasaki
EX250 Ninja
MN
5
384
Bob Young
6987
1253
Yamaha
FJR1300
MN
6
484
Donna Kennedy
6542
902
Suzuki
DL650
MN
7
603
David Hinks
6523
1405
Kawasaki
Concours
IL
8
454
Joe Schrage
6324
947
BMW
R1100RT
NE
9
508
Bob Kolstad
5957
1119
Moto Guzzi
V11 Sport
MN
10
581
David Biren
5583
1023
Kawasaki
ZRX1200
MN
11
528
Dave Porter
4880
1140
BMW
K75S
MN
12
145
Joe Steve
3860
882
Kawasaki
Concours
KS
13
23
Tim Foreman
3847
330
BMW
K1100RS
MN
14
251
Andrew Olson
2832
1464
BMW
R1100RS
MN
15
529
Brian Waletzko
2468
618
Yamaha
FJR1300
MN
16
494
Michael Snodgrass
1980
830
BMW
R1100RT
CO
17
561
Jeff Jaynes
1470
1067
Kawasaki
Concours
MN
18
585
Steve Lazer
1384
1169
BMW
R1150RS
MN
-
422
Bruce Scudella
DNF
-
Yamaha
Venture
IL
-
538
Bill Rufenacht
DNF
-
BMW
R100/7
WI
-
548
Thomas Napiwoski
DNF
-
Yamaha
FJR1300
MN
Standard
Place
Rider #
Name
Score
Miles
Make
Model
From
1
12
Kurt Henning
7541
1105
Triumph
Bonneville
MN
2
567
Debbie Josephson
7313
1090
HD
Heritage Softail
MN
3
502
Mark Jost
7247
1166
BMW
R1100R
MN
4
325
Paul Ptak
6462
1010
Norton
Commando
MN
5
403
Thomas Kyle
5486
2066
Honda
Nighthawk
MN
6
514
Beth Ziegler
5082
888
HD
Dyna Low Rider
MN
7
518
Tammy Holmer
4282
904
HD
Fat Boy
MN
8
138
Michelle Moe
2738
173
BMW
R850R
MN
Touring
Place
Rider #
Name
Score
Miles
Make
Model
From
1
540
Paul "Hootis" Noskowiak
9772
1229
HD
Road Glide
MN
2
14
Victor Wanchena
9268
1249
BMW
K1200LT
MN
3
558
Joseph Leggett
8606
1055
BMW
K1200LT
WI
4
405
David Bourdeaux
8448
1010
Honda
GL1800
SD
406
Don Bourdeaux
8448
975
Honda
GL1500
ND
5
566
Rich Josephson
7313
1096
HD
Ultra Classic
MN
6
146
Peter Buenting
6341
1133
BMW
R1150GS
MN
7
310
George Doughty
6322
1027
BMW
R1150GS
MN
396
Brian Johnson
6322
1017
BMW
K1200LT
MN
8
511
Tom Gardner
6220
1240
Honda
GL1800
MN
9
239
Jeff Hause
6144
742
Yamaha
Venture
MN
10
380
Tony DeLorenzo
5337
1191
BMW
R1150GS
WI
11
488
Dave Ten Clay
5001
894
BMW
K1200LT
MN
12
306
Bob Botha
4252
1022
Suzuki
AN650
MN
-
57
Tim Frederick
DNF
-
BMW
K1200LT
MN
-
412
Pat Ferriter
DNF
-
BMW
K1200LT
IL
Two-up
Place
Rider #
Name
Score
Miles
Make
Model
From
1
587, 588
Lorin & Glenda Mulder
8100
1004
Honda
GL1800
IA
2
153, 600
Jim & Patricia Breed
5979
819
BMW
R1100RT
KS
3
532, 596
Andrew Mills &
Elizabeth Heinecke
5296
1041
Yamaha
FJR1300
MN
4
598, 599
Timothy Rahill &
Rhonda Dahlgren
5206
1064
BMW
R1150RT
MN
5
329, 395
Dan Stephans &
Ron Millard
5099
1183
HD
Electra Glide
WI
6
614, 615
Vernon & Ruthie Poltzin
4268
1163
Honda
GL1800 Trike
MN
Sidecar
Place
Rider #
Name
Score
Miles
Make
Model
From
1
308, 7
Lee Bruns &
Sev Pearman
7604
988
Honda/Velorex
Metallic Waste
SD
MN
2
228, 610
Bart Bakker &
Kevin Dammen
7288
846
BMW
R100 + Ural sidecar
MN
3
318
Mike Senty
3941
938
Honda
GL1100 sidecar
MN
4
137, 176
Sheldon Moe &
Kevin Kocur
-7002
210
Ural
Deco Classic;
Stella
MN
Rookie
Place
Rider #
Name
Score
Miles
Make
Model
From
1
593
Jon Larsen
8332
863
Honda
CBR600 F4
MN
2
589
Peter Larsen
7409
886
Honda
Hawk GT
MN
3
591
Peter Behm
6964
1338
Yamaha
FJR1300
MN
4
607
David Samborski
6938
1017
BMW
F650CS
MN
5
573
Susan Dean
6512
1045
Moto Guzzi
EV11 California
MN
6
576
Roger Ries
6405
1001
Honda
PC800
MN
7
616
Craig Bennett
5930
1162
BMW
K75C
MN
8
583
Kevin Sandwick
5589
1025
Honda
GL1500
MN
9
590
Josh King
5157
1106
BMW
R1150GS
MN
10
606
Perry Linn
5046
999
BMW
K1200LT
MN
11
602
Todd Sherva
4946
1001
Yamaha
FJR1300
MN
12
605
John Schuster
4754
1097
HD
Road King
IA
13
617
Charles Kelly
4426
861
Honda
ST1300
MN
14
582
Paul Klopfenstein
4397
1004
BMW
R1200GS
IL
580
Cecil Conaway
4397
1065
BMW
R1150GS
IL
15
594
Jason Erickson
4173
1191
BMW
R1100RT
SD
16
586
Dana Oehlerich
4105
843
Yamaha
FJR1300
MN
17
595
Brian Collins
3888
800
Triumph
Tiger
CO
18
608
Jeff Martin
3750
566
BMW
R1150RT
MN
19
604
Scott Nelson
3246
999
Honda
VFR-800
MN
20
613
Bob Carlson
2961
832
BMW
R1100RT
NE
21
612
Jeff LeDuc
2498
1008
BMW
R1100RT
MN
-
597
Dan Wilson
DNF
-
Suzuki
AN650
MN
Non-starters
Rider #
Name
Score
Miles
Make
Model
From
-
18
Howard Steuber
DNS
-
MN
-
278
Dan Stephans II
DNS
-
MN
-
351
Tim Lonis
DNS
-
IN
-
369
Don Sills
DNS
-
KY
-
490
Ted Schwarzrock
DNS
-
MN
-
501
Mark Asplund
DNS
-
MN
-
557
Kevin Powers
DNS
-
MN
-
564
Trevor Scholtz
DNS
-
WI
-
574
Alan Palmer
DNS
-
MN
-
575
Tina Waletzko
DNS
-
MN
-
584
Michael Wesley
DNS
-
PA
-
611
Jim Bain
DNS
-
SC
-
618
Larry Barfknecht
DNS
-
MN
Unless otherwise indicated, all material herein © Team Strange Airheads, Inc. All rights reserved.
Reproduction or duplication in any form without our express permission is prohibited.
The "Ironbutt" name and logo used by permission of the Ironbutt Association.
Direct event-related inquiries to the contact listed for the particular event.
Direct web-related inquiries to webmaster@teamstrange.com.