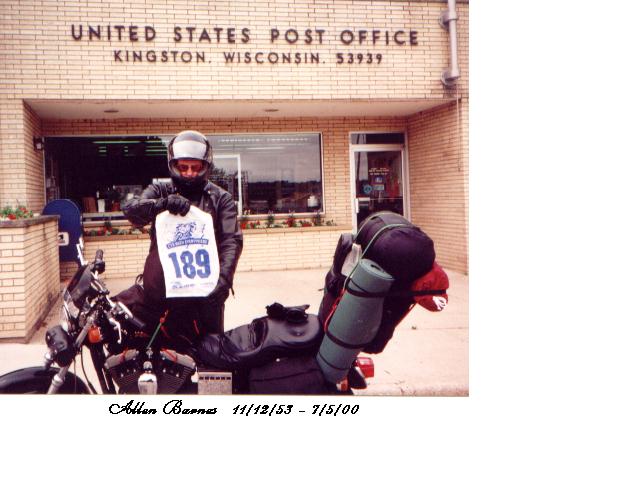 Here's my I've Been Everywhere Story, a sad tale to say the least. It
started out well enough. Allen & I usually take a long motorcycle
vacation each year to explore new areas of the Midwest, but because of a
change of job, Allen had only 5 days of vacation coming this year. We
planned a camping vacation to Road America for the AMA Superbike races and
decided there would have to be a lot of day trips on unfamiliar back roads
to make up for our usual lengthier explorations. When Allen discovered
the IBET, it was the perfect answer to our "where should we go this
weekend" question. Like everyone else, we printed off the list of towns
and started planning our itinerary, keeping our goals modest in only
wanting to complete 25 locations.
Our "maiden voyage" was in May and close to home, picking up Dayton,
Buffalo & Chaska, MN. We would have picked up one more had not a road
construction detour turned us around so badly that we ended up back in
Buffalo. Now we were really jazzed and checked the map to see which
locations we could pick up on our June trip to Road America. On our way
home from Elkhart Lake we were able to document Fond du Lac, Eldorado and
Kingston, WI. This was getting really fun. Later in June, I talked Allen
into taking me to a quilt show in Rochester with a side trip to pick up
more places. We got the Minnesota Welcome sign and Winona, Mn. Yes, that
created a bit of an argument as I was sure Winona was one of the towns and
Allen assured me it was not. However, just in case and since it wasn't
that far out of our way, he indulged me. When we got home, we checked the
list. OK, so Winona ISN'T in the song, BUT IT SHOULD BE!
Soon the July 4th holiday weekend was upon us but there was lots to do at
home and the weather was iffy and we had pretty much decided not to go
anywhere when out of the blue a guy Allen works with asked him if we'd
like to ride someplace with him and his girlfriend that Saturday. So we
said, sure, picked the route and told them we planned to try to pick up a
few towns in the process for our IBET. We ended up getting only one more
town...Houston, Mn., but had such a wonderful ride and great fun with this
couple. And it's a good thing we did...
Because on July 5th, Allen was killed while riding his motorcycle to work.
This couple, Charlie and Christie, road with red ribbons on their
motorcycles in Allen's memory, and when I asked Charlie if he would
consider finishing out the IBET for us, he said, "Absolutely!" So
technically, Allen & I did not finish the IBET, but this wonderful friend
did for us, picking up the following towns on his bike with our flag #189:
8/19 saw Ottawa, Waterville, Reno, MN and Bangor, WI for a total of 450
miles (Charlie confided that he meant to also pick up Baraboo, WI that
day, but it was getting cold and he didn't have chaps or heavy gloves, so
headed home.); 8/27 he found Toronto, SD and Springfield, MN for a short
280 mile day; 9/2 he was in Little Rock &Hackensack, MN for 380 miles; 9/9
he made it to Knoxville, Oskaloosa, Charleston, Monterey (ok, he admits he
didn't find any sign but this church sign after following several leads,
several dirt roads and arriving at the church and two rundown farms.), all
in Iowa, then Monterey, NE, which he says was very similar to the one in
IA, then back to Washington, IA making a very long 650 mile day, but
perhaps yielding his best picture of the lot. It shows the town sign, a
cop car, a cop holding the flag and the motorcycle. Charlie says,
"Shortly after stopping in Washington, the town cop stopped and asked if
there were any problems. I told him, No, but I could use a banner holder.
Steve, the town police, gladly helped out. He was also a rider & missed
out on Sturgis this year due to a broken wrist. He is looking forward to
getting on a new Harley in the spring of 2001. Thanks for the help,
Steve!"; 9/10 he found the sign pointing to Nashville (when he spoke to
one of the residents, she just laughed, threw up her arms and said, "This
is it!"), Davenport, Waterloo and Parkersburg, IA in what he described as
a very wet 355 mile day; 9/24 saw him winding up the tour on another cool
day with Winslow, NE (36 degrees at 11:00 a.m.), Sioux City (45 degrees at
1 p.m.) and Spirit Lake, IA for a 710 mile day! This last picture reveals
why he may have survived that last long day as he didn't bother to unload
the bike from the back of his pick-up for the picture. Well, I had told
him you were looking for interesting, fun, different poses and said I
thought that would make a good one, so he took me up on it and calls it
his "cheater".
So somewhere in there between the three of us, I think we may have 25
legitimate locations documented. You may not consider this a true
"finish", but you can't fault us for giving it our best shot!
Thanks for the crazy idea that has left me with so many wonderful memories
of rides we probably would not have taken otherwise. And to everyone out
there...ride safely.
Sheila Barnes
idahobeautyinwi@pressenter.com
Back to IBET Archive