Kathleen and Melody made Denver happen.
The surly fellow woudln't leave, even after we offered him $20 to find another corner.
We love you too, Mel.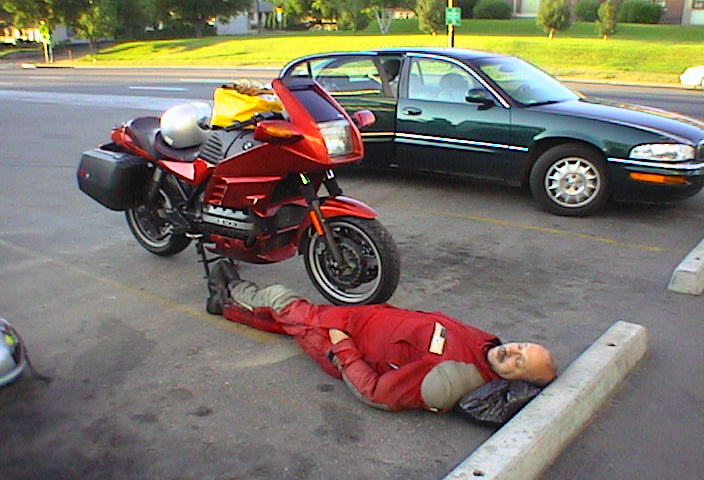 Poor little sleepyheads...Don't feel too bad, though, because they all got more sleep than their Rallymasters in the previous 24 hours. Good thing, too, because they'll need their energy for the
MOTHER CABRINI SHRINE
The text of the bonus read as follows:
Golden, Colorado-344 points 7 am - 8 pm
Let's go visit the Mother Cabrini Shrine. The life and good works of Mother Cabrini are memorialized in the form of a shrine built into the base of a large cross. You reach the shrine by climbing a scenic, terraced stairway to the top of an overlook, where you will be greeted with scenic views of the surrounding countryside. Along the staircase are depictions of the 12 stations of the cross and other scenes from the life of Jesus.
Climb the stairway to the shrine. Surrounding the shrine are tablets depicting the 10 Commandments. Locate the tablet for the Second Commandment. Write the Commandment EXACTLY as it appears on the tablet. To whom is this tablet dedicated?
From I-70, take the exit for Lookout Mountain Road (exit 256). Go East 1.3 miles, following the signs, turning on Cabrini Blvd. to the shrine. Proceed another 1.4 miles past the entrance. Golden is 10 miles West of Denver on I-70.
OOPS! We forgot to tell the riders about the 300 or so steps they had to climb to the top! Silly Rallymasters!
Riders attacked the steps with abandon. Note Strickstein's styling headgear.
Some riders seemed a bit overdressed for the climb. (L) Dan figured that the Lord woudln't mind taking the Rallymasters' names in vain. (R) He won't be smiling after he gets back down.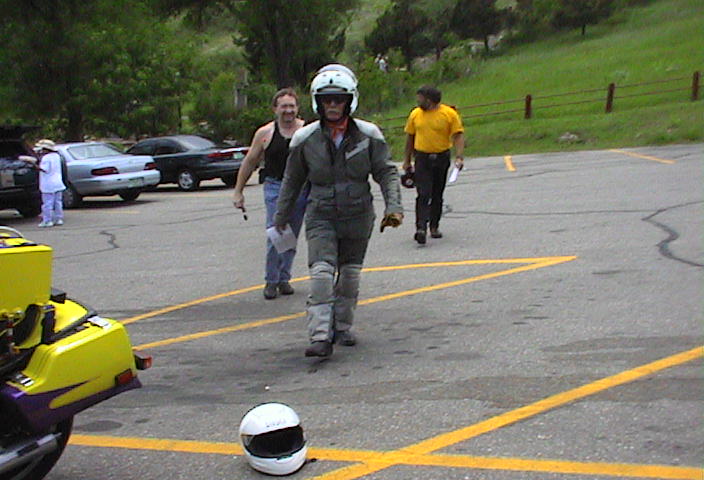 Bill Newton wants to kick our asses after finding out what was involved in earning the poitns. Good thing he was so winded, otherwise he might have caught us.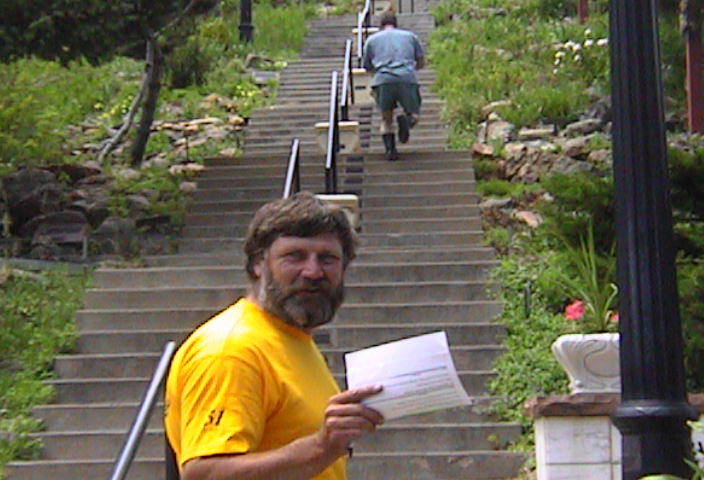 Nels Gebben before he broke the swearing habit. "Nels, Mark is on the phone."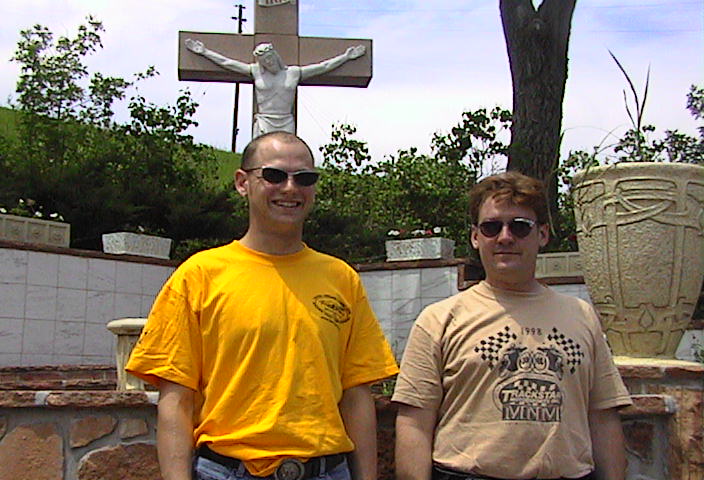 Mark Kiecker and Bart Bakker. Both had excellent first leg runs.
Ohmigod, look at the time! We've got to get to Atlanta and right now!
Back to Photo Album