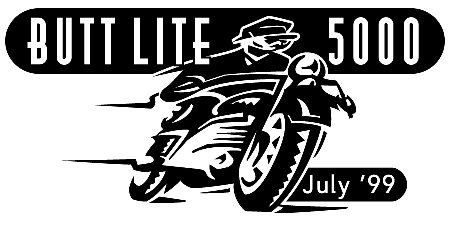 ButtLite 5000 Intelligence Reports
News and Views from Rallymaster Adam Wolkoff
July 9, 1999
Miles To Go Before I Sleep


OK, listen up. Time is short and there is a lot to do between here and St. Paul. If you are a rider, you've got to decide whether you are going to risk it all on a heroic run up and over the Great Lakes, like Mark Kiecker. Or, are you taking a more conservative approach, like Allen Dye, hoping to capitalize on the mistakes of others. Are you sick of this whole mess, and ready to head for the barn? Or are you going to dig deep, put your head down, and make a statement?
Two riders are emerging as the ones to beat. Currently in the lead is Gary Parece, a quiet, focused Concours pilot from Somerset, Massachusetts. The other, hot on Parece's tail, is that dick, Richard Bernecker. Both riders have shown their understanding of the pacing and stamina required on an event of this type. At the same time, the personalities of these two men are as different as night and Day.
Parece, your leader, has maintained a low profile over the whole rally. Gary has never been seen bragging, whining or complaining. When the route sheets are handed out, he quietly sets to work setting up his plan. On the ride, he sticks to his plan. This guy is so cool, he didn't even raise his voice when he dropped his laptop in the parking lot at Zen Moto. It was a spectacular "Oh, Shit!" kind of drop, the kind that sends the case bouncing off the tarmac, CD-ROM drive skidding across the pavement, leaving shards of very expensive plastic in its wake. Gary just walked over, picked up the 'pute, and went back to his bike. This man is one cool customer. (I might also add that Gary's results so far ought to go a long way toward quieting those who disparage the Concours as a LD mount. Gary and his bike seem to be holding up quite well, thanks)
Bernecker is a more gregarious sort of rider. We often have trouble scoring his route sheets, because he is so enthusiastic about describing this bonus or that road or the other strange experience he had on his run. I'll admit to being a bit worried about Richard yesterday, when he marked the Kitty Hawk bonus on his map. This morning, when we saw him sleeping spread-eagled behind the dumpster of our hotel, I knew he'd be right in the thick of things.
Parece or Bernecker? Up or Down? Black or White? Who can say? This one's too close to call.
Doug Holmes, a Minneapolis postal employee, moved from sixth into third place with a perfectly executed ride right through the heart of the Smokies. Doug is heading into his motel turf, and will certainly be a force to reckon with on this final leg of the ButtLite 5000.
Otto Ellars Jr, from Franklin, Ohio, is your forth place rider. I must admit that in so doing, Otto has also snuck by your reporter. He obviously has much more important things to do than angle for a mention on the internet. Every rally has its dark horse. Say neigh, Otto.
Airyn Darling is back from the middle of the pack, less than 900 points out of the lead. Folks, that's just a couple of bonuses worth. Steven Strickstein had the most impressive ride of the leg, moving from 34th place all the way up to 14th. If he can hang on, he might find himself in the winners circle.
All of those people who thought this leg was too easy, read this and weep: nine riders were time barred at the close of the Springfield checkpoint. This was the toughest leg of the rally to date, and don't doubt that for a second. There is another, equally clear fact: at this point, the ButtLite 5000 is wide open. Its anyone's rally to win. Who will it be? Tomorrow afternoon, we'll have our answer.
Tick, Tick, Tick.

(A word about the results. The riders were on an extremely tight schedule for this checkpoint, and our priority is obviously to take care of riders first, and worry about things like the web page later. If you don't see a rider's number mentioned, it is likely that they were simply a late arrival and did not make the printout from which these results were generated.)
BL5K RESULTS--LEG THREE
ALL RESULTS ARE TENTATIVE
| | | |
| --- | --- | --- |
| PLACE | NAME | POINTS/COMMENTS |
| 1 | Parece | 10446 |
| 2 | Bernecker | 10425 |
| 3 | Holmes | 10301 |
| 4 | Ellars | 9958 |
| 5 | Darling | 9698 |
| 6 | Jewell | 9579/Getting Serious |
| 7 | Anderson, K | 9526 |
| 8 | Dye | 9357/Too conservative route on leg 4? |
| 9 | Phelps | 9257 |
| 10 | Ulrich | 8868 |
| 11 | Snyder | 8698 |
| 12 | Strickstein | 8661 |
| 13 | Gebben | 8616 |
| 14 | Austin | 8502/and climbing |
| 15 | Corio | 8050 |
| 16 | Zulaski | 8011 |
| 17 | Edewaard | 7997 |
| 18 | Stephans | 7747/watch this guy |
| 19 | Steuber | 7603/rumoured tranny trouble |
| 20 | Buharali | 7394/getting the hang of it, albeit a little late |
| 21 | Oswald | 7386 |
| 22 | Grills | 7247 |
| 23 | Kiecker | 7071/look for lots of miles here |
| 24 | Smith | 6970 |
| 25 | Fisher | 6897 |
| 26 | Boyce | 6454 |
| 27 | Newton | 6257TIME BARRED and still in 27th... |
| 28 | Ray | 6077 |
| 29 | Bakker | 5904/DNF |
| 30 | Dean | 5712 |
| 31 | Kesseler | 5693/TIME BARRED |
| 32 | Sills | 5364/TIME BARRED |
| 33 | Ohnemus | 5363/WITHDRAWN |
| 34 | Ralston | 4843/DNF |
| 50 | Smith | 4843 |
| 51 | Tor | 4751 |
| 52 | Church | 4657 |
| 53 | Mulcahy | 4560/TIME BARRED |
| 54 | Pasquarello | 4375/TIME BARRED |
| 58 | Smith, T | 3845/on the clock |
| 59 | Bruns | 2176/on the clock |
| 60 | Herman | 2176/WITHDRAWN |
| 61 | Stephans ii | 2157 |
Back to Reports From The Road