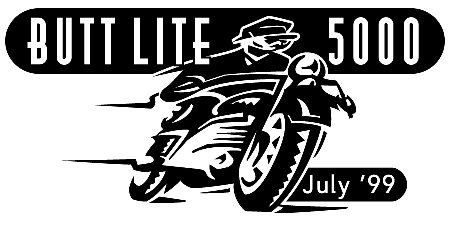 ButtLite 5000 Intelligence Reports
News and Views from Rallymaster Adam Wolkoff
July 6, 1999
Past and Future History
After replenishing our vital bodily fluids, we're back in the TeamStrange supercharged Buick, streaking east towards greater glory and checkpoint two in Marietta, Georgia. Leg One of the inaugural ButtLite 5000 is history. And if the manager in the McDonalds was a bit testy after I hijacked the TV extension cord to power up the laptop, well that's just too damn bad. Everyone knows that television rots your mind. I'm reporting history in the making.
We all know that history is full of surprises. The biggest surprise to date on the BL5K comes in the form of a rider named Mark Kiecker from Minneapolis, Minnesota. Rider #56's tale begins on July 4, when he was almost taken out of the rally by a defective zipper on his leathers. Fortunately, legendary leather repairman Tom the Tailor took pity on young Kiecker, opened his shop on a holiday and set the zipper straight. Kiecker was ready to ride.
And ride he did. Kiecker managed to hit such diverse and scenic bonuses as Hell's Half Acre, Wyoming and Estes Park, Colorado, and earn a four-hour sleep bonus. While riding a 600cc Yamaha Seca II. With a four gallon tank.
While I was stealing electricity from Mac and Don's, Eddie called ahead. We're happy to report that the Moose Lake Mental Institution is holding a comfortable, padded room for Mark upon his return to Minneapolis. In the meantime, Mr. Kiecker will certainly savor the fact that his 1450 miles puts him squarely at the top of the to date mileage list.
Another thing about history: sometimes it repeats itself, sometimes it doesn't. Take for example, the air-cooled boxer. Though a fine motorcycle, most endurance riders believe history proves the airhead poorly suited for serious, multi-day endurance work. At this point in the Rally, it seems that this theory may be headed for history's ever-growing ash heap.
Remember "Lucky" Bart Bakker, Rider #13? He's the fellow that lost his rally towel 30 minutes after we handed it to him. Well, Bart found his towel, then he found his motorcycle, and then he found Denver, picking off the lead on his way to the mile high city. After being photographed in front of Eddie's K1—currently residing in Minneapolis City Councilmember Lisa McDonald's office in City Hall—Bart headed west. He absolutely swarmed across Minnesota, then into South Dakota. Along the way, he learned more than he ever cared to learn about Laura Ingalls Wilder, earned a four-hour sleep bonus and got chased by a buffalo.
"Lucky" encountered the enraged animal while traveling from Keystone to Hot Springs, South Dakota. The decision to run this foul stretch of pavement at Oh-Dark-Thirty is the reason why #13 is currently #1. Bart's route sheet indicates he traveled the proscribed route: 16A to 87 to 385. This 58-mile walk in the woods took him nearly two hours, including time spent fleeing the bison. If Bart can hold on to his towel, and leave the damn animals alone, he's the man to beat on leg two.
Leaving her days as a Minnesota 1000 volunteer behind, Airyn Darling has shown herself a force to be reckoned with. While it all seems so clear now, Eddie and I were a bit worried about Rider #31 at the start of the Rally. Airyn didn't even have a bike to ride in the event until days before the start. She earned a hefty performance award from Wisconsin's finest on the way to St. Paul. After the initial route sheets were handed out, she seemed intent on outsmarting herself, questioning whether she should even attempt bonuses because they "looked too easy—there must be something wrong."
Apparently Airyn was sandbagging us. She stormed through South Dakota, methodically picking up bonus after bonus, including the four-hour sleep bonus. She even followed proper procedure when she encountered the Moon Motors bonus, which was unexpectedly closed. She can read, she can ride, and she's in second place. We have a real rider in our midst.
There are a few more names to watch. Richard Bernecker, riding the Rolling Bordello, scored the same points as Ms. Darling, but the one additional mile on his odometer puts in third place (lower mileage breaks the tie—efficiency don't you know). Nels Gebben, our reformed Harley rider, piloted his K100RT to an extremely solid fourth place, and looked fit and happy in Denver. He will be a threat on leg two. Ralston and Smith are tag teaming their way to solid points, and you know they can put down the miles. I personally would not count out crafty riders like Newton and Dye flying under everyone's radar on the next leg.
What of the pack? Its tight. The difference between 10th and 20th place is 65 points. The majority of these riders used leg one to get sorted out and rested up. Hours later, I still find it galling that most of these riders slept twice as long as I did last night, and I'm riding in the supercharged Buick. History tells us that the winners of multi-day endurance events are often sitting in the middle of the pack early in the rally. Its possible, if not likely, that one of these dark horses will emerge as the big dog of leg two.
A few other items of note before I give you the full results. Riders continue to be plagued by an inability to read and follow bonus directions. Often these mistakes are quite costly. More than one rider lost the 1000 point fuel bonus for failing to get proper gas receipts.
It gets worse: all but a few riders proved they couldn't even CHEAT properly. In true TeamStrange fashion, we allowed riders to cheat, in the hopes they'd get it out of their systems. The bonus required riders to pretend to travel to the Territorial Prison in Rawlins, Wyoming, write down their pretend odometer and time entries, then write down (any) name identifying the most notorious criminal housed there. Every rider wrote down the time and odometer; no more than a handful made up an answer to the bonus question to earn the 15 points.
For some riders, luck lent a hand. Take Howie Steuber, whom Ed has christened "Howard the Duc." Howard had to push start his 907IE at his final gas stop, and rolled into Fay Meyers thinking it was time for a new battery. The crack Meyers service team gave him the bad news: failed charging system. Then they gave him the good news: they had ALL the parts in stock. To our knowledge, Howie is the first long distance rider to enter a Ducati in an event of this type. For him to roll into the first checkpoint on the rally—the first Ducati dealership to serve as a checkpoint in a multi-day event—just had to be a sign from above. Howard's last words before pulling out of Denver were, "I have a hankering for a burrito." That can mean only one thing: he's on his way to Altamonte Springs, in central Florida. We have no doubt that this tough, reserved Minnesota farmer has every intention of enjoying his tasty treat and seeing us in Atlanta.
On our way out of town, Eddie and I decided to stop off at the Mother Cabrini shrine in Golden Colorado. We'd offered our riders the chance to climb the 350 steps leading up Lookout Mountain to observe the shrine, and record the exact phrasing of the Second Commandment, as found there. Good thing Mr. Gebben selected this bonus, since he obviously needed the review. Having followed him into the bonus, he greeted us by exclaiming "I was wondering who that fucking asshole was on my goddamned ass…" Dan Stephans II was more discreet, observing that while the Lord didn't want His name taken in vain, He surely would not mind what names the Rallymasters were called.
And so it goes. How many riders will choose to visit the Live Oak Resort in Washington, Texas, which bills itself as a "family friendly, clothing optional, biker friendly resort?" Will anyone actually take our invitation to phone ahead to Hot Coffee, Mississippi, and ask that the required receipt be left taped to the door of the General Store? Will they enjoy Precious Moments in Carthage, Missouri as much as we did? Will anyone hang a spell in Booger Hollow, or enjoy a Dr. Pepper milkshake in Waco, Texas? Your guess is as good as ours. Check back and find out.





BL5K RESULTS-LEG 1 (UNOFFICIAL)

| | | |
| --- | --- | --- |
| PLACE | RIDER'S NAME | POINTS |
| 1 | Bakker | 2509 |
| 2 | Darling | 2335 |
| 3 | Bernecker | 2335 |
| 4 | Gebben | 2268 |
| 5 | Ralston | 2246 |
| 6 | Smith | 2246 |
| 7 | Parece | 2235 |
| 8 | Anderson, K | 2212 |
| 9 | Stephans | 2212 |
| 10 | Kesseler | 2196 |
| 11 | Bruns | 2176 |
| 12 | Herman | 2176 |
| 13 | Tor | 2161 |
| 14 | Dean | 2157 |
| 15 | Stephans II | 2157 |
| 16 | Phelps | 2142 |
| 17 | Ohnemus | 2142 |
| 18 | Ulrich | 2139 |
| 19 | HOLMES | 2139 |
| 20 | Newton | 2131 |
| 21 | Dye | 2131 |
| 22 | Austin | 2116 |
| 23 | Pasquarello | 2101 |
| 24 | Corio | 2071 |
| 25 | Mulcahy | 2056 |
| 26 | Ray | 2046 |
| 27 | Ellars | 2040 |
| 28 | Snyder | 2031 |
| 29 | Steuber | 2031 |
| 30 | Fisher | 2031 |
| 31 | Sills | 2027 |
| 32 | Zulaski | 1957 |
| 33 | Strickstein | 1892 |
| 34 | Kiecker | 1875 |
| 35 | Edewaard | 1859 |
| 36 | Boyce | 1789 |
| 37 | Jewell | 1768 |
| 38 | Grills | 1767 |
| 39 | Church | 1753 |
| 40 | Berggren | 1344 |
| 41 | Smith | 1211 |
| 42 | Oswald | 1131 |
| 43 | Buharali | 1056 |
| 44 | Smith, Terry | 0 (Time Barred) |
| DNF | Poklop | Mechanical |
Back to Reports From The Road