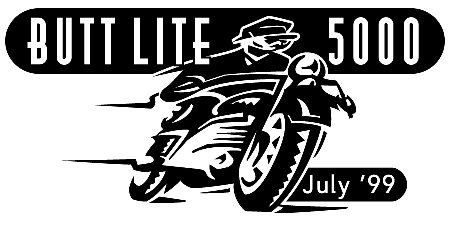 ButtLite 5000 Intelligence Reports
News and Views from Rallymaster Adam Wolkoff
July 10, 1999
The time: approximately 1630. The place: somewhere in Indiana. The sighting: Rider #31, closing fast on the supercharged Buick. Eddie spotted her first. "That's Airyn Darling behind us." We turned to each other, and said, "Tennis balls."
Earlier in the day, during the course of activities, which shall not be described herein, we managed to accumulate a quantity of hi-viz yellow tennis balls. We didn't know what to do with them at the time, but figured when the time came, we'd have them if we needed them. The time had come.
Ed opened the driver's side window, then reached in to the back seat for a tennis ball. Using exquisite skill, he led Airyn's bike with the Buick, and bounced the ball out the window. "Good shot!" I yelled, observing the narrow miss. Rider #31 responded with an extended middle finger: a request for another serve? Must be. Eddie bounced another one out the window, this time just narrowly missing the bike. Soon, we were in rapid-fire mode, bouncing tennis balls out the window while trying not to bust a gut from laughing. Eventually, Airyn figured out who was behind the fusillade, and got in the spirit by trying to catch the tennis balls. Sadly, the last ball bounced just out of the palm of her hand, and she gassed her RS and bid us adieu.
We sped north and east, on our way to the finish line via El Famous, Summit Illinois' largest burrito. We'd offered riders large bonus points for the purchase of a food item and T-shirt at El Famous. Iron Butt legend Eddie Otto had agreed to staff the bonus and we weren't going to drive by without stuffing our faces and visiting with Eddie.
When we arrived, we were gratified to see the always-congenial Mr. Otto insuring our riders met the bonus requirements to the letter. We were also happy to see Jon Diaz, Chuck DeSantis and Jim and Donna Faucik had stopped by to cheer on the riders. We'd hung a huge bonus out in Fargo, North Dakota, and the Huge Burrito was the logical jumping off point. We figured that excess quantities of Mexican food, coupled with the inspirational presence of Ed Otto, would be certain to send riders rocketing north to Fargo. Alas, it did not seem to be. The collective wisdom of riders at El Famous was that Fargo was simply "impossible," even in he 19 hours remaining in the rally. Saddened, Eddie and I climbed back in the Ultra and headed north.
We had hoped for a smooth shot to St. Paul. This was not to be, however, as your Rallymasters had hit the wall. Eddie drove from El Famous to just south of Rockford, at which point he simply was too exhausted to drive any further. He woke me, we switched, and I managed to get us just north of Beloit before calling for a switch. When I was awakened about 40 minutes later, we were just north of Madison. I then took on the awesome responsibility to get us just north of Wisconsin Dells before again relinquishing the wheel. And so we proceeded, leapfrogging our way across Wisconsin in a desperate attempt to Just Get Home.
It was during our Madison stop that we encountered Kerry Church, rider #10. As we sat sleeping in the Ultra, we heard the unmistakable sound of a Screaming Meanie in full shout. Eddie, half-awake, groped about the car's interior, looking for the alarm that wasn't there. Then we noticed Kerry Church, spread-eagled on the ground next to our car. XX During final check in, we mentioned to Kerry that we had seen him in Madison. "That was YOU?" he shouted, "You looked like a couple of drunken railroad derelicts sleeping in that car." Perhaps that's why Kerry had fallen asleep with one hand on the footpeg of his motorcycle.
Eventually we made St. Paul, as did most of the riders who had left St. Paul just five days before. As we checked riders in, we paid close attention to the scores. This leg was wide open, and would determine who won the rally. The tension was thick in the scoring room.
You may recall I advised that you keep your eye on Allen Dye, gentleman rider from Texas. I was a bit concerned about Mr. Dye when I saw him taking routing advice from spectators at the Ohio checkpoint. Allen had run his own rally to this point, and I was sad to see him abandon his plan in favor of suggestions from the crowd. I shouldn't have worried. Dye had been sandbagging in Ohio, and in fact had devised a route that ended up moving him from 8th place to the top five.
Doug Holmes, too, continued to follow the plan that had led to his ever rising status in the standings. Doug had looked fresh in Ohio, and he exploited his newfound energy to a fourth place finish against very tough competition.
We continued to check riders in. Riders who had visited El Famous turned in the T-shirts they purchased there, thus insuring Eddie has clothes to wear during this year's Iron Butt. Joe Zulaski discovered we weren't kidding when we said we were taking anything purchased at a bonus as our own. Joe had hit the gift shop at the Indy 500, and had purchased a rather nice wristwatch to replace the one that had broken during the rally. I'm sure you can imagine the surprise on Joe's face when Eddie demanded the wristwatch, and the receipt, before giving Joe the points. Joe looked at his new watch, then his scoresheet, before he took off the watch and handed it to Eddie. Of course we gave the watch back to him, but the look on his face as he handed over his new purcha$e was priceless.
Bernecker, then Parece checked in. Both had run solid, if conservative routes. Neither had decided to route a coup de grace. It was almost as if they both expected to capitalize on expected mistakes of other riders, who would have to be very aggressive to upset the established order. As it turned out, there were two such riders in the field.
Mark Kiecker looked at the standings in Ohio, and he was not discouraged. He realized that a monster ride would put him right in the thick of it. Once he looked at the route sheets, he knew where he was going: up around the Great Lakes. Pretty heady thoughts for a rider with three years experience who did not even own a rainsuit until the day before the rally.
Alas, Keicker's run of bad luck continued. Just outside of Toronto, Mark's tankbak flew open and disgorged his route sheets. Two hours of searching did not reveal the location of his paperwork, so he had no alternative but to pack it in and head to the finish.
The best endurance riders share one quality: the word "impossible" does not appear in their vocabulary. How many of you would have advised Kiecker to head out to the Rock and Roll Hall of Fame in Cleveland, then on to Windsor, Ontario, then up around the Great Lakes, while riding a stock 600cc Seca without auxiliary lights and fuel? I thought so. Yet Kiecker refused to admit this run was impossible. When he lost his paperwork in Toronto, he was on a pace to arrive ON TIME in St. Paul. Had he been successful, he would have won this rally, and deservedly so. The name Mark Kiecker was not exactly well known in endurance riding circles before this rally. Riders in future events would be well advised not to forget it. This kid is for real.
Remember the group of riders who concluded the run to Fargo was impossible? Their conclusion was not without factual support: to earn the (huge) bonus points, a rider would have to spend 30 minutes disporting with the fun folks at Ma's Cycle, which did not open until 0900. Thus, they would have to drive right by the hotel at the finish line, continue to Fargo, bide a wee, then blast back to St. Paul without being time barred. Every rider but one thought this ride impossible. Eric Jewell knew different.
It pleases me to no end to announce the Eric Jewell is the winner of the first ever ButtLite 5000. Eric reached down into himself, put his head down, and pulled off the "impossible" Fargo run. The Fargo bonus, coupled with the efficient route he planned for this leg of the rally propelled Eric from 6th Place to the Winner's Circle. We hope to see Eric back to defend his trophy next year. Until then, please join us in congratulating Eric on an extremely good ride, and for winning the inaugural ButtLite 5000.