BUTT LITE 5000
BASE ROUTE

Please note that the base route and times listed below are TENTATIVE. We reserve the right to change some or all of it, without regard to reason, sanity or politeness. ALL TIMES ARE LOCAL. Additional checkpoints may be added at any time. For obvious reasons, bonus listings are secret and are not depicted here.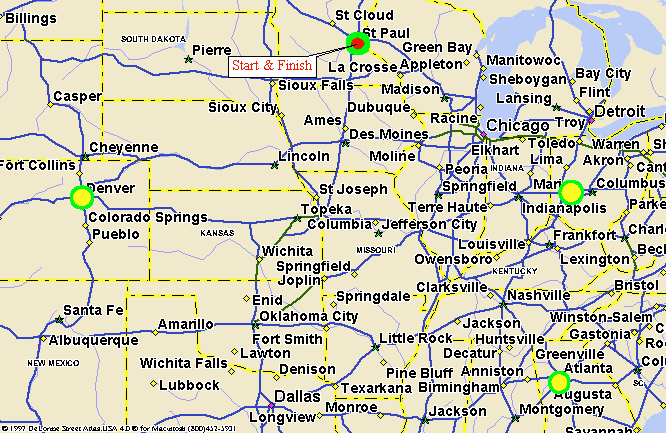 Saint Paul, Minnesota
July 5, 1999
Country Inn
I-94 at Century Blvd. St. Paul, MN
Riders Depart 0800
Denver, Colorado
July 6, 1999
Checkpoint Opens1000
Checkpoint Closes 1200
FAY MYERS MOTORCYCLE WORLD
Fay Myers, in business since 1948, is
the largest motorcycle dealership in Colorado.
Offering Honda, Kawasaki, Suzuki,
KTM, Husaberg, Ducati, Triumph
and Husqvarna motorcycles.
2015 West Alameda Denver, CO 80223
1-303-744-6632
Marietta, Georgia:
July 8, 1999
Checkpoint Opens 1000
Checkpoint Closes 1200
ZEN MOTO INC
Springfield, Ohio
July 9, 1999
Checkpoint Opens 0700
Checkpoint Closes 0900
COMPETITION ACCESSORIES, INC.
"Your Motorcycle Super Store: Talk to People Who Know"
Specializing in BMW, Ducati, Honda and Yamaha Motorcycles
345 West Leffel Lane Springfield, OH 45506
800-872-1269 phone 800-451-8849 fax
Saint Paul, Minnesota
July 10, 1999
Country Inn
I-94 at Century Blvd. St. Paul, MN
Checkpoint Opens 1400
Checkpoint Closes 1600
Back to BUTTLITE Archives